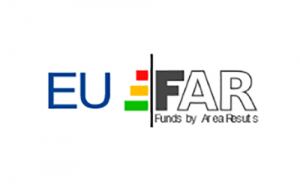 EU-FAR - EU Funds by Area Results
October 2022 – March 2023
The key objective of the EU FAR project is to stimulate development of granular open data on EU funding. In doing so, the work will be conducted for Romania by providing open data aligned with the FAIR movement (Findability, Accessibility, Interoperability, and Reusability). Information publicly displayed by the project is focused on the EU funds absorbed by local governments in Romania (LAU 2 level). The project will cover available data for the entire programming period of 2014-2020.
The activities involve a mix of policy analysis and dissemination work targeting relevant stakeholders at various levels: local, county, regional, national and EU levels. A special focus will be placed on rural areas. Deliverables include open database, policy briefs, conference paper, presentations and an open-access academic article. The processing and public display of data will make use of Research Data Alliance (RDA) outputs. The project's deliverables will be disseminated with the support of the European Open Science Cloud (EOSC) services and products. The project team envisages a sustainability plan to ensure further uptake of project's outputs at a larger scale.
This project is supported by the Research Data Alliance (RDA) through RDA Open Call for Cross Disciplinary Science Adoption Grants #1, part of the EOSC Future project. This project has received funding from the European Union's Horizon 2020 research and innovation programme under grant agreement No. 101017536.
All project's materials are available on Zenodo
Maps in EU FAR – EU Funds by Area Results Project
EU FAR – Addressing territorial disparities in EU funds absorption. Policy brief
EU FAR Newsletter December 2022
EU FAR database is also available on RoHub
EU FAR Project: animation presentation
Conference Presentation – The Richer and the Poorer facing EU funds in Romania: the case of white spots
EU FAR Database: EU Funds absorbed by Romanian Municipalities 2016-2021
EU FAR Project: Description of Database EU Funds absorbed by Romanian Municipalities 2016-2021
Project team: Anca Monica Marin (Project Coordinator)
Technical Experts: Eugen Glăvan, Alin Chiș and Bogdan Corad. 
RIQL coordinator(s): Anca Monica Marin, Research Institute for Quality of Life, Bucharest, Romania
Research team RIQL: Eugen Glăvan
Period: October 2022 – March 2023
Funding: European Union's Horizon 2020 research and innovation programme 
Key words: EU funds; localities; open science; Romania.
***Extended deadline for abstract submission: 20 February*** Guest editors: Michala Lustigova, Anna Altova, Charles University, Faculty of Science, Research Centre on Health, Quality of Life and Lifestyle in a Geodemographic and Socioeconomic Context (GeoQol) Dear...