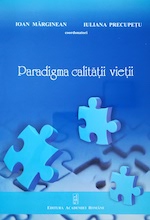 Quality of life is a multiannual research program that aims to analyse quality of life in Romania in a comparative international perspective. A comprehensive image of quality of life is developed by using both objective and subjective indicators, both survey and...
During the Open Government Week, on 12th of March 2019, the team of OGP Romania - General Secretariat of the Government, in partnership with the RIQL - Research Institute for Quality of Life (Romanian Academy), and the Center for Public Innovation organize the debate...
The ICCV Conference "Social Romania 1918 – 2018. ICCV contributions to the knowledge of the Romanian society" 14 November 2018, Bucharest   In the series of events dedicated to the Centenary of the Great Union, the Research Institute for Quality of Life (ICCV), member...
From source to destination: new challenges of migration in Central and Eastern Europe Timişoara, 11th– 12thof September 2018   Organizers: RoMig - The Romanian Network for Migration Studies, Faculty of Sociology and Psychology and Faculty of Economics and Business...
... Latest news Bucharest Calea 13 Septembrie nr. 13, postal code 050711 Phone: 021.318.24.61 Fax: 021.318.24.62 E-mail: iccv@iccv.ro / secretariat.iccv@gmail.com Follow us on Calea 13 Septembrie nr. 13 Bucharest Phone:...